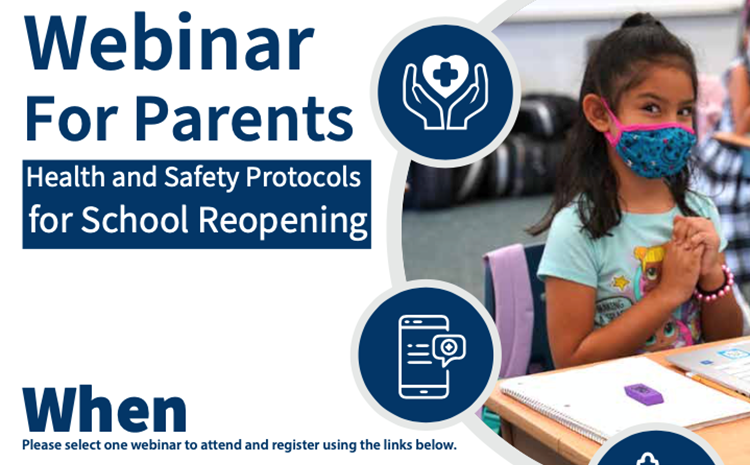 Webinar for Parents - Health and Safety Protocols for School Reopening
Wednesday, September 30, 2020
Dear Families,
As you know, the district continues to prepare for the return to in-person instruction and will soon share reopening dates.  

To ensure families are prepared for school reopening, we encourage parents to attend one of our upcoming webinars on health and safety protocols and procedures. The webinars will be held Friday, October 9 from 9:30 to 11 a.m. or Thursday, October 15 from 5:30 to 7:00 p.m. District leaders will cover a variety of topics, including daily screening forms, bus safety procedures, mask protocols, indoor and outdoor safety measures, responding to illness on campus and more. Click here for the flyer.

To sign up, visit:
http://bit.ly/ggusdoct9 for the October 9 webinar
http://bit.ly/ggusdoct15 for the October 15 webinar
Students are encouraged to attend the October 15 webinar. The webinar will be recorded and shared with all parents and students so that families know what to expect when schools reopen.

GGUSD teachers and school staff remain committed to equipping students with the academic and personal skills for lifelong success. This week, many schools hosted Virtual Back to School Nights to provide parents with important information about their child's instructional day and to showcase the academic successes occurring in our distance learning classrooms. Districtwide, we continue to provide students and parent with a variety of online trainings aimed at supporting the academic growth of our students.  For juniors and seniors, the district is hosting a Virtual College Fair on Monday, October 5. Click here for the flyer.
The district continues to monitor COVID-19 rates for our school community each week. The Orange County Health Care Agency provides COVID-19 data on their dashboard. Orange County has maintained a positivity rate of 3.1% for four consecutive weeks. For the 10 zip codes we primarily serve, all but one (92704) are under 8%, with 7 of the zip codes being well under 5%- as low as 0.7% in 92708, and the 92840 zip code moving up for the first time to 7.2% after having been in the 3-6% range most of the summer.
As always, we remain committed to providing a safe learning environment for all students and staff when schools do reopen.