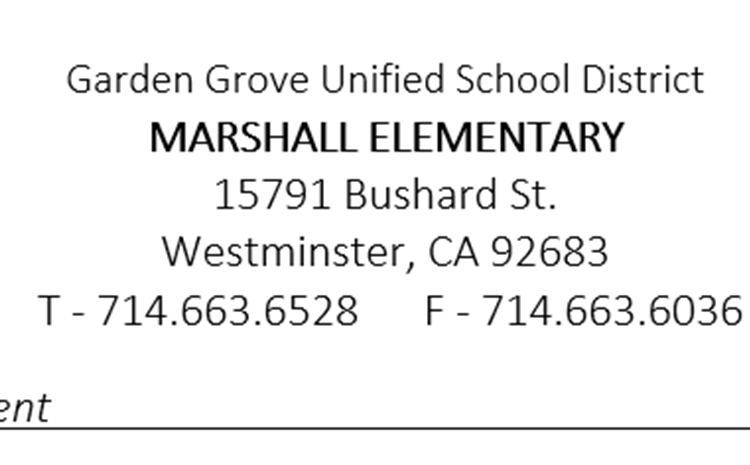 Marshall Reopening Letter to Families
Good Morning Marshall Families,
We are all so very excited to inform you that Marshall Elementary is one of GGUSDs sites to open up to "in- person" learning beginning Wednesday, October 28th!
As we continue with preparation, we want to ensure you that safety precautions are in place, materials and supplies are ready, and staff members are prepared to support your children.
As previously shared, grade levels will all have an A/B schedule.
A Student Groups:       8:30 a.m. – 11:20 a.m.            (Wed. = 8:30 a.m. – 10:30 a.m.)
B Student Groups:       12:00 p.m. – 2:50 p.m.            (Wed. = 12:00 p.m. – 2:00 p.m.)
Special Ed. Classes:     9:10 a.m. – 2:30 p.m.              (Wed. = 9:10 a.m. – 1:40 p.m.)
Your child's teacher will be sending a message to you personally on ParentSquare informing you of their schedule this coming week.
I would also like to invite you to attend a family meeting to discuss our plans for Marshall's reopening as well as answer any questions you may have. Please join us on:
Monday, October 19th
1:30 p.m.
Join Zoom Meeting
https://ggusd-us.zoom.us/j/95245171287?pwd=ekw1enlUMTZHVnFOYWtLeThQTnViQT09
Meeting ID: 952 4517 1287
Passcode: 044921